DJ Wedding Services
YOUR WEDDING DAY
DJ WEDDING SERVICES – PHOTO BOOTH RENTALS – VIDEO SERVICES - DECOR LIGHTING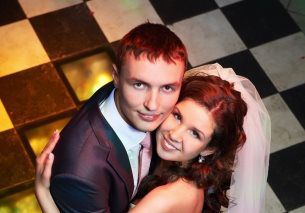 This once-in-a-lifetime day will never happen again. You want it to be the best. You want to remember the moments you've always dreamed of. You want your family and guests to enjoy and remember the day as being exceptionally perfect. This can all come true by scheduling the very best services available to assist with the success of your wedding day. Sight & Sound Services will treat your wedding day with dignity and respect. We'll listen to your needs, and our entertainment and DJ wedding service team will deliver what we promise. Making great FUN and wonderful MEMORIES to relive forever. No other company has the devotion and commitment to assure the success of your wedding day than the staff at Sight & Sound Services. We'll do whatever it takes to make your day fantastic.
Our Entertainment and DJ Wedding Services
DJ
One of the most important and make or break parts of a wedding is the DJ. Sight & Sound Services has been providing DJ wedding services to the southeastern Washington area for over 20 years. We provide the best sound, light show, and music that the area has to offer. Give us a playlist to base our music on or let us do all the work for you! We work for you on your special day—let us make the after-party perfect!
Photo Booth
Rent a photo booth with us today so you and your guests can preserve the memories you make for a lifetime. Our photo booth service includes props and fun décor to make your party more exciting. Let us print copies for everyone to keep or create digital copies they can access later.
Video Services
We can provide you with video services to capture your wedding ceremony and reception in 4k and HD quality video, ranging from multiple angle shots to drone footage! Make your day that much more memorable and hire us for video services today.
Lighting
We can provide you with elegant wedding ceremony lighting as well as fun and colorful lighting for the reception! Contact us now for more information and pricing on our lighting and DJ wedding services for your wedding.