Photo Booth Rental Tri-Cities, WA
PHOTO BOOTH FUNMAKER FOR ANY OCCASION - GREAT FOR WEDDINGS, BIRTHDAYS, COMPANY PARTIES, REUNIONS, ANNIVERSARIES....ANY EVENT...NO TIME LIMITS AND UNLIMITED PICTURE TAKING. ALSO INCLUDES DIGITAL FILES.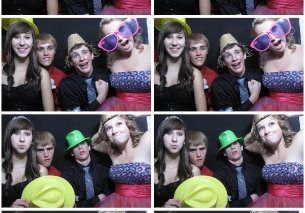 Our most requested fun maker, a photo booth rental in Tri-Cities, WA, from Sight & Sound Services creates excitement and energy. All your guests will love capturing each moment and preserving the fun memories they are creating with our photo booth. It is the perfect addition to any corporate event, wedding, birthday party, and more! Help your guests make lasting memories and have a piece of that memory with them forever—contact us for photo booth rental in Tri-Cities, WA.
The process of renting a photo booth in Tri-Cities, WA
We will arrive at your event with the booth and set up in whichever spot you need us to. We will then ensure that all the props are there, the photos are coming out perfectly, and our attendant is ready for a night of great pictures! As your guests circulate throughout the party, our attendant will invite them to step inside to take a picture. At that point, all your guests have to do is simply step inside the enclosed booth, get set with their group of friends, grab some props, and make some silly and fun faces! Then push a button and within a few seconds out pops a dual four picture strip in either color or black and white. Our photo booth comes completely set up and ready to use with props and an attendant as your guests begin to arrive. It also includes digital files to download and send to guests instead.
For more information on our photo booths rental in Tri-Cities, WA, please contact us. A member of our team will be happy to assist you!