Photo Booth
PHOTO BOOTH FUNMAKER FOR ANY OCCASION - GREAT FOR WEDDINGS, BIRTHDAYS, COMPANY PARTIES, REUNIONS, ANNIVERSARIES....ANY EVENT...NO TIME LIMITS AND UNLIMITED PICTURE TAKING. INCLUDES DIGITAL FILES.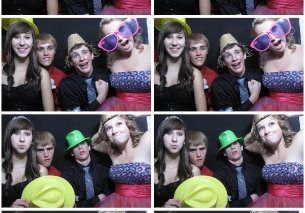 Photo Booth Fun Maker For Any Occasion – Great For Weddings, Birthdays, Company Parties, Reunions, Anniversaries…. Any Event. Let The Fun And Memories BeginOur most requested fun maker, a photo booth from Sight & Sound Services creates excitment and energy. Your guests will love capturing that moment of exhilaration and emotion. Our customers rave about the fun and memories created with a photo booth.
Here's how it works: simply step inside the enclosed booth, push a button and within a few seconds out pops a dual four picture strip in either color or black and white. Comes completely set up and ready to use with props and an attendant as your guests begin to arrive. Includes digital files.